Gifts
Custom Orders
Custom Keepsake Box
Wedding/Bar Mitzvah/Bat Mitzvah/Special Occasion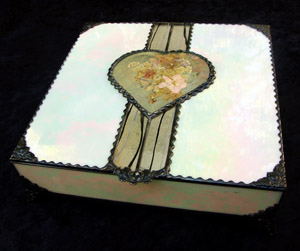 bridal box example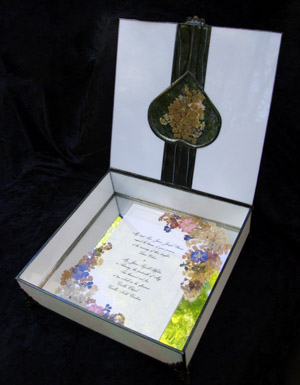 open detail
Approximately 9" x 10" x 2" (depending on the invitation)
All keepsake boxes are custom orders and will be co-designed with the artist by phone or email.
Must send invitation to be preserved with dried flowers between the glass.
This bridal box example is white mother of pearl with heart and flowers in center of top with iridescent glass accents.Comes with filigree feet & corner accents and a floral lift.
All boxes will be artistically matched to the given invitation.
$235.00
Custom Order Only
(contact us for details)
Estimated delivery time: 2-4 weeks. Please contact us for rush orders.

Shipping cost included for U.S. delivery only. Please contact us for international rates.

Please note that glass colors may vary slightly. The colors you receive will be the colors you order but the reds will have blends of red, orange, & white; the blues will have blends of blue and white; etc.
All Items Handmade in Plantsville, CT (USA)